See the MAT 6200 Die Attach System at iMAPS – Booth #402!
MAT has 35 years of experience… and it shows!  In systems that are simple and better.  NDC is proud to represent MicroAssembly Technologies, Ltd. (MAT) in the USA, Canada and Mexico. MAT specializes in complex, high-value applications for microelectronics assembly. Their focus is exclusively on die attach technology.  They offer 2 systems.  The 6500 Model is a floor model that can handle wafers.  The 6200 is a table-top model that handles die from carrier trays and waffle packs.
Check out the 6200 Die Attach System at iMAPS
Come learn more about the 6200 System at iMAPS.  Meet Dr. Alexander Leob from MAT and watch his demonstration of this superior system.  We think you will be impressed with the unmatched flexibility, value and change-over speed.
Capability for all known die attach processes is already implemented into the base machine.  Whether your application be eutectic or adhesive based, Flip Chip or Face Up, MCM, Die Stacking, MEMS, Imaging Device or other, this machine will handle it with high accuracy and yield.  Plus you get ultimate versatility for the future with hardware add-ons that make expanding capabilities simple.
MODEL 6200: Automatic Die Attach System, The Crossover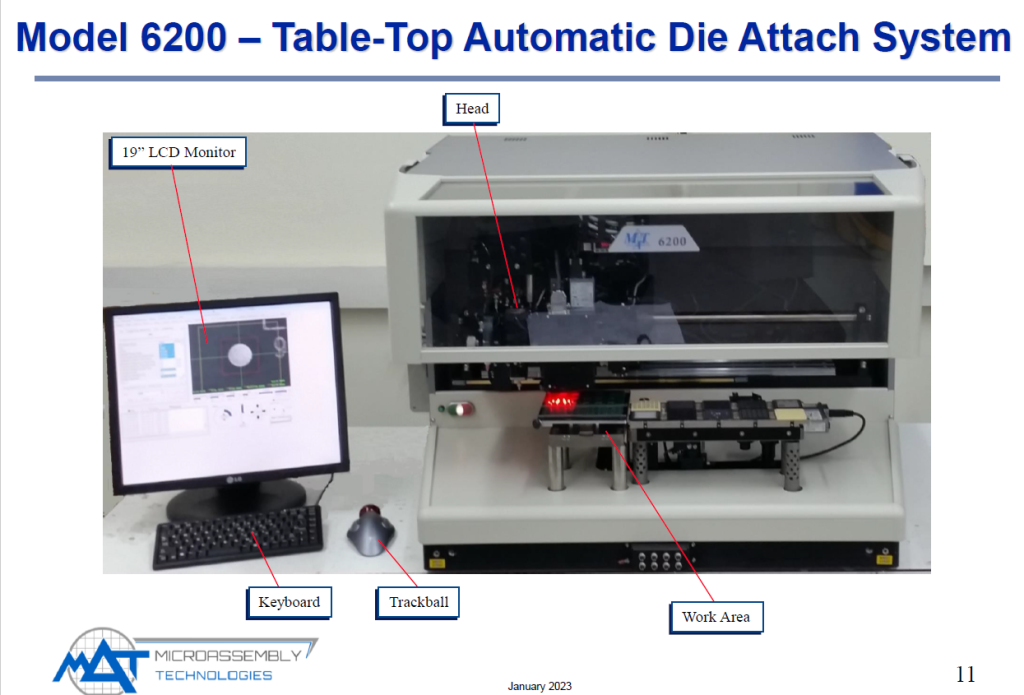 The Model 6200 Automatic Table-Top Die Attach System offers best price/performance in a "crossover" system that has unmatched versatility and very high placement accuracy. It performs the widest range of cold and heated die attach processes on the same machine.
Specification Highlights:
Mode of Operation: Fully automatic process from waffle/gel packs and/or reel feeders with manual material load/unload.
Processes: Cold and High Temperature -MCM, Flip Chip, Eutectic, Ultrasonic, Silver Glass, Ag Sintering etc.
Die Size Range: 0.150 to over 50 mm.
Die Materials: Silicon, GaAs, Glass, Metal, Ceramic, Other.
Die Presentation: Up to Ten 2" Waffle/Gel Packs, Up to Three 4" Waffle/Gel Packs, Up to 8 Reel Feeders.
Substrates: BGA, Lead Frames, Ceramic, Silicon Wafers, Glass, Metal, PCB, TO, Other.
Work Area: 7" x 6" (configuration dependent).
Placement Accuracy: Better than ±3 µm (application dependent).
Throughput: Up to 700 CPH (application dependent).
Configuration: Table-top.
Click here for the full brochure.
MAT Die Attach Advantages
Whether you are interested in the 6200 we are featuring in this article or the 6500 floor model, both MAT systems offer 3 key advantages over the competition.  First, is price.  There is no competition at this price point.  Second, the machines are extremely easy to program.  Our customers report that they can change processes in only minutes or seconds! And finally, the machines have an open design which makes them incredibly flexible.
Come see for yourself at iMAPS Booth 402!  We will have the 6200 system in our booth.  Dr. Alexander Leob from MAT will be on hand to demonstrate the system.
Not attending iMAPS?  Contact Kevin Hartsoe at 215-355-2460 for more details!