Budatec GmbH offers a complete line of vacuum soldering systems to meet your needs from small to large batch machines, as well as fully automated production systems.  Neu Dynamics is proud to represent budatec.  They are a recognized leader in this segment specializing in the use of hydrogen and plasma gases in their systems.  Based in Berlin, budatec brings more than 20 years of experience in developing vacuum soldering technologies and is a leading machine manufacturer for the semiconductor and solar industry.
If you are looking for increased flexibility, expandability and ease of integration, budatec's vacuum soldering systems offer all that and more.
Budatec's Range of Vacuum Soldering Systems
Increase your yield in production with these superior budatec systems. With better derivation of heat loss and integration of drying and degassing processes, vacuum soldering technology allows bonding surfaces to remain free from oxides and cavities resulting in little or no contamination on the product.
The budatec VS Family includes a full range of systems: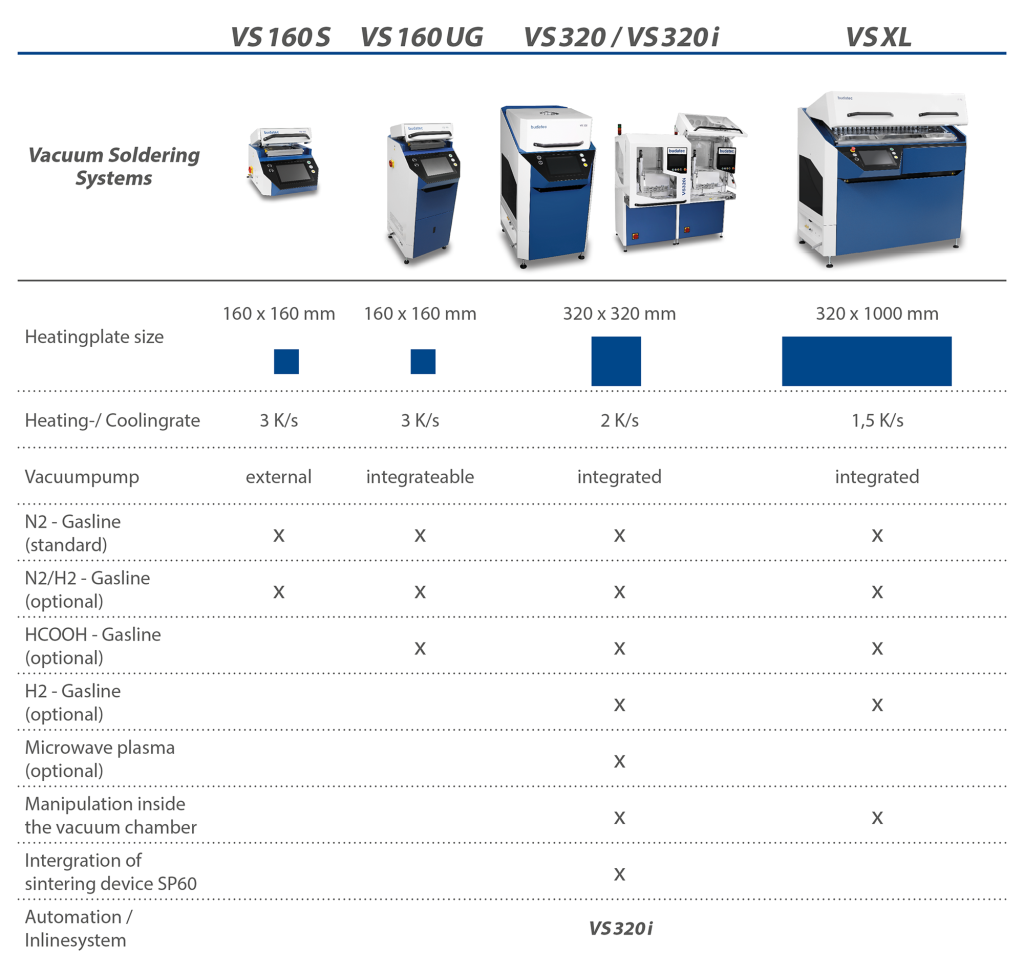 VS 160 S & VS 160 UG – Highest Performance & Small Footprint
With a heating plate size of 160 mm x 160 mm the VS 160 vacuum soldering system offers highest performance and a small footprint thanks to its high heating and cooling rates (approximately 200 K/min.).
Available as a VS 160 S (benchtop) and as a VS 160 UG (with a base frame) making it possible to integrate additional options such as a vacuum pump or HCOOH gas line.
Uses:

Research & Development
The production of smaller batches under production conditions
VS 320 – Best Choice for Medium & Large Batches
The VS 320 is your best choice for medium and large batches due to the heating plate size of 320 mm x 320 mm and the high achievable performance.  Options such as hydrogen (concentration adjustable up to 100 %), HCOOH, special gases, microwave plasma and the integration of the budatec sintering press.
Uses:

Research & Development
Production of medium and large batches
 VS 320 i – Fully Automatic& Expandable Inline Vacuum Brazing System
VS 320i builds on the success of the VS 320. In this system, each furnace has its own automatic loading and unloading system. As a result, it is simple to integrate the ovens into an existing inline line via the conveyor system. Several ovens can be easily linked in series allowing the line to be adapted to the production capacities.  Several technology steps can be integrated inline quickly and easily.
VS XL – Best for Processing Large Parts & Large Batches
The VS XL heating plate size of 1000 mm x 320 mm is ideal for processing large parts and large batches.  Hydrogen (concentration adjustable up to 100 %), HCOOH and special gases as well as motor-driven manipulators can be integrated within the workspace.
Uses: Large Parts & Large Batches
Contact Kevin Hartsoe at 215-355-2460 for more details!
Give Kevin a call today to discuss which system is right for your application.